If you look good, you feel good, you shoot good.
As simple as that! But we're here to help you with all that through our best tips and advice on making your engagement photos as EPIC as possible. 
Table of Contents:
So, you've decided to take the plunge and book an engagement photo session. Congratulations! Before freaking out about posing like a professional model, take a deep breath and relax. We assure you it's normal to feel nervous or unsure about what to expect. But fear not because this blog post is here to help you prepare for this exciting pre-wedding event! We promise you don't need to be Bella Hadid to nail your engagement photos. So, sit back, grab a drink, and get ready to learn some helpful tips and tricks to make your session stress-free and awesome.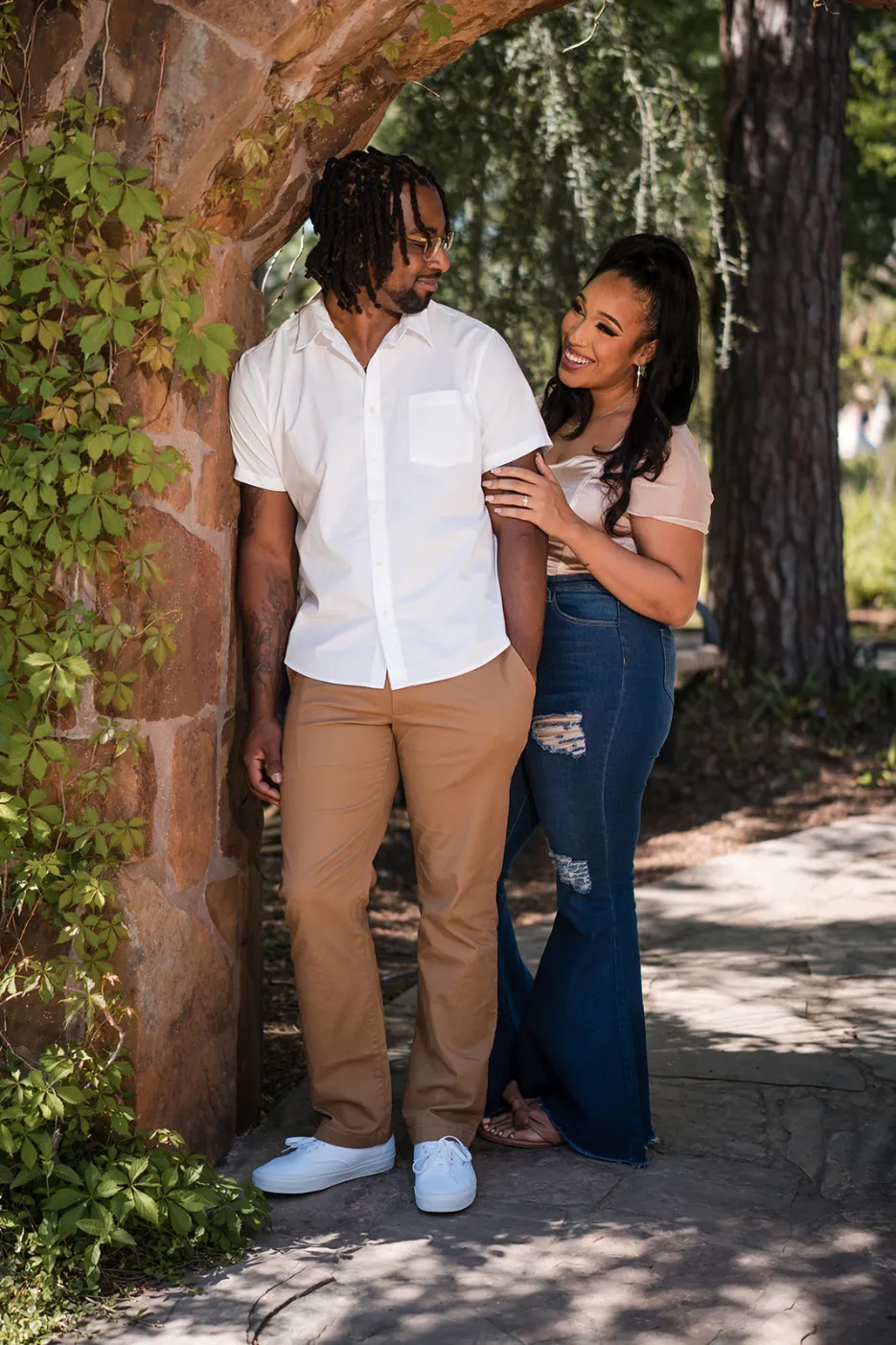 Why You Need to Show Up Prepared for Your Engagement Photo Session
Are you overwhelmed with the idea of telling your engagement photographer every little detail about your vision? Don't worry; we understand! However, we want to let you in on a little secret to make your engagement photo shoot a million times better: preparation. When you come to your engagement photoshoot prepared, you'll spend more time capturing stunning, epic photos and less time catching up or being directed around. Our photographers are artists who want to focus on their craft to provide you with the best possible results.
So, take a deep breath and read this blog post. We've put together some tips and tricks to help you prepare for your engagement photoshoot, so you can relax, enjoy the experience, and create timeless memories. With our help, you'll feel confident and look incredible in your photos. Remember, no matter who you hire for your engagement photography, showing up prepared is the key to getting the best bang for your buck.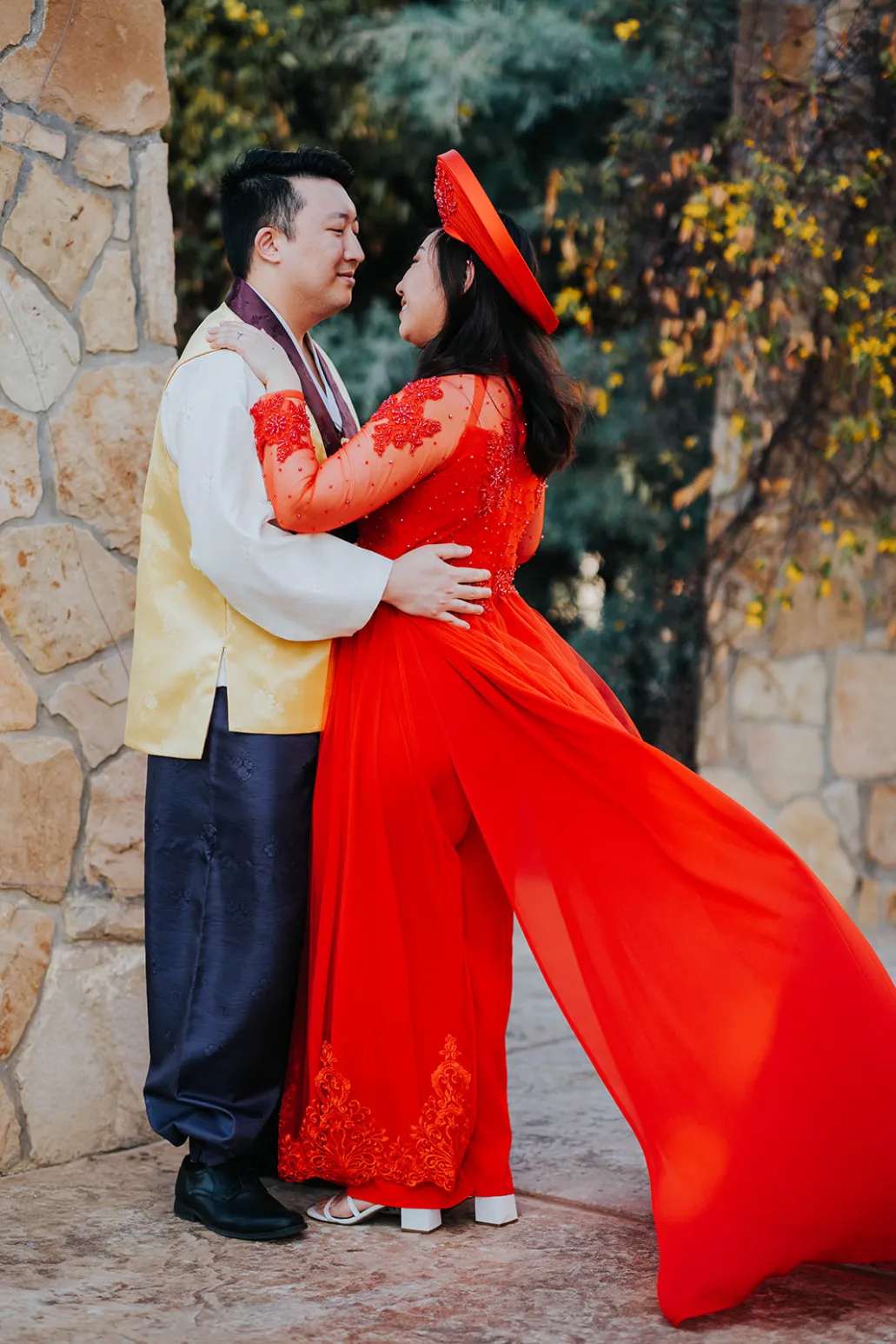 The Goals Of Your Engagement Photos
Key Takeaways:
Get to know your photographer and vice versa

Strut your stuff and feel confident in front of the camera

Have beautiful photos of you and your partner for various uses

Give your photographers a sneak peek into your personalities

Practice session for wedding day portraits

Comfortable couples = better photos!
Let's be honest, folks: the goal of engagement photos is pretty simple. First, it's a chance for you to get to know your photographer (and for your photographer to get to know you!). After all, they will capture your love story on one of the biggest days of your life, so it's essential to make sure you're all on the same page.
But let's not forget the other benefits of an engagement shoot. You get to strut your stuff in front of the camera and see what it means to be a total boss babe (or boss dude) in your own skin. Plus, who doesn't love having beautiful photographs of themselves with their bae? You can use these pics for everything from saving the dates to wedding invites to your wedding website.
Your engagement photo session is not just about capturing some Insta-worthy shots of you and your boo. Oh no, it's so much more than that! It's a chance for us, your trusty wedding photographers, to get a sneak peek into your personalities and see what makes you two tick.
But that's why we're here to make you feel at ease and help you bring your true selves in front of the camera. Think of it as a pre-wedding practice sesh for your portrait session on the big day. Trust us, the more comfortable we are with each other, the smoother everything will go.
What to Bring to Stay Comfy, Relaxed, and Prepared for Anything
Oh boy, you gotta be prepared for anything regarding engagement photos. No, you don't need to bring your whole closet with you, but a small tote bag can work wonders! Here are some must-haves to throw in your bag:
Water

A pack of gum or mints

Small makeup kit for touch-ups on lip color and foundation

Hair kit – brush, hair ties, bobby pins, gel, and spray (to tame those flyaways and keep your locks looking luscious)

SNACKS!

Extra change of clothes (just in case you spill something or decide you want a different look)

Comfortable shoes. Save the stiletto pumps for #intheclub.

Umbrella (photo prop and for inclement weather)

A small towel for dabbing sweaty foreheads

Medicine for headaches (just in case the pressure of looking amazing gets to your head)
With these items in tow, you'll be ready to tackle anything that comes your way during your engagement shoot. Remember to have fun and embrace the moment – this is all about capturing your love story beautifully and memorably!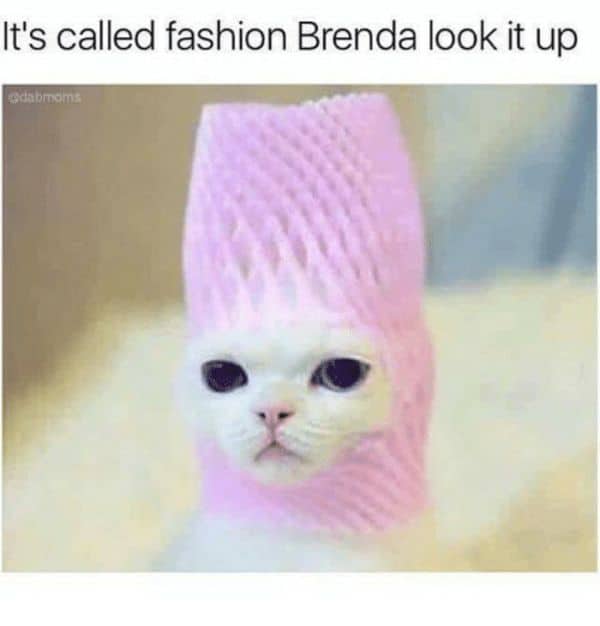 How to Dress for Success at Your Engagement Shoot
Key Takeaways:
Match the vibe and dress like you normally would in the setting.

Shopping is an investment in your love and your wardrobe ;)

Feeling comfortable in your clothes is key.

Bring a change of clothes and shoes to get different photo styles.

Coordinate your outfits, but don't match. Stick to a color family that won't clash with your surroundings.

Add simple textures to mix it up, and don't be afraid to add a small pop of color.

Nature photo shoots work best with earthy tones.

Match your partners levels of casualness and dressiness.
It's time to talk fashion. Because let's be real, half the fun of engagement photos is the excuse to go shopping, amirite? So, before you start picking out outfits, think about where your session will take place. The goal is to match the vibe and dress like you normally would in that setting.
Think of it as an investment in your love and your wardrobe. And let's remember the most important part – feeling comfortable in your clothes because nothing ruins a photo faster than feeling like you're wearing a strait jacket. Repeat after me: comfort over anything. If you're wearing fancy shoes or planning to get down and dirty, bring a change of clothes and shoes. And if you're not a fan of tight-fitting clothes, skip 'em.
Now, let's talk coordination. It's not about matching (we're not taking JCPenny portraits or channeling our inner 90s Britney and Justin vibes), but rather complementing each other's outfits. Stick to a color family that won't clash with your surroundings and add in some textures to mix it up. Think flowy dresses, blazers, scarfs, and cardigans. And don't be afraid to add a pop of color here and there!
PRO TIP: Bring along those extra outfits and let us help you choose the best combos for the location. Don't worry; your professional photographer won't judge your fashion sense, no matter how questionable it may be ;). And hey, if you still can't decide, snap a pic and send it our way! Better safe than sorry, right? We promise we won't make you wear that neon green onesie unless that's really your thing.
Lastly, make sure you're on the same page with dressiness. You don't want one person showing up in a t-shirt while the other is dressed to the nines. Match your levels of casualness and dressiness while still staying true to your location. Because when it comes to engagement photos, looking good and feeling good go hand in hand.

Hair and Makeup for Your Photo Shoot
Key Takeaways:
Pamper your skin: Invest in a good skincare routine before your photoshoot. Exfoliate, moisturize and drink plenty of water to achieve a healthy glow. DO NOT start purging skin treatments (like Tretinoin) or new skincare routines if you have sensitive skin before your photoshoot. 

Use a primer to make your makeup last longer

Go for a neutral or soft-toned eyeshadow

Define your brows (light and feathery!

Add a pop of color to your lips or consider using a lip plumper gloss. Just make sure you've tested it first in case it makes you break out or you're sensitive.

Get a fresh haircut or style: A new haircut can help you look and feel your best. Consider getting a trim or trying a new hairstyle before your photoshoot. And hairspray can be a lifesaver if you're doing an outdoor photo shoot on a humid or windy day. Looking at you, Houston!

Book a manicure: Don't forget about your nails! Book a manicure to ensure your hands and nails look their best. Ensure your hands are moisturized, clean, and coiffed to get those incredible photos of your new bling.

Spray tan: A sun-kissed glow can make you look like you just returned from a tropical vacation. And avoid white clothes until you've showered off the excess spray tan!

Smile and have fun: The most important thing is relaxing, smiling, and having fun during your engagement photoshoot. Your natural happiness and joy will shine through in the photos, making you look your best.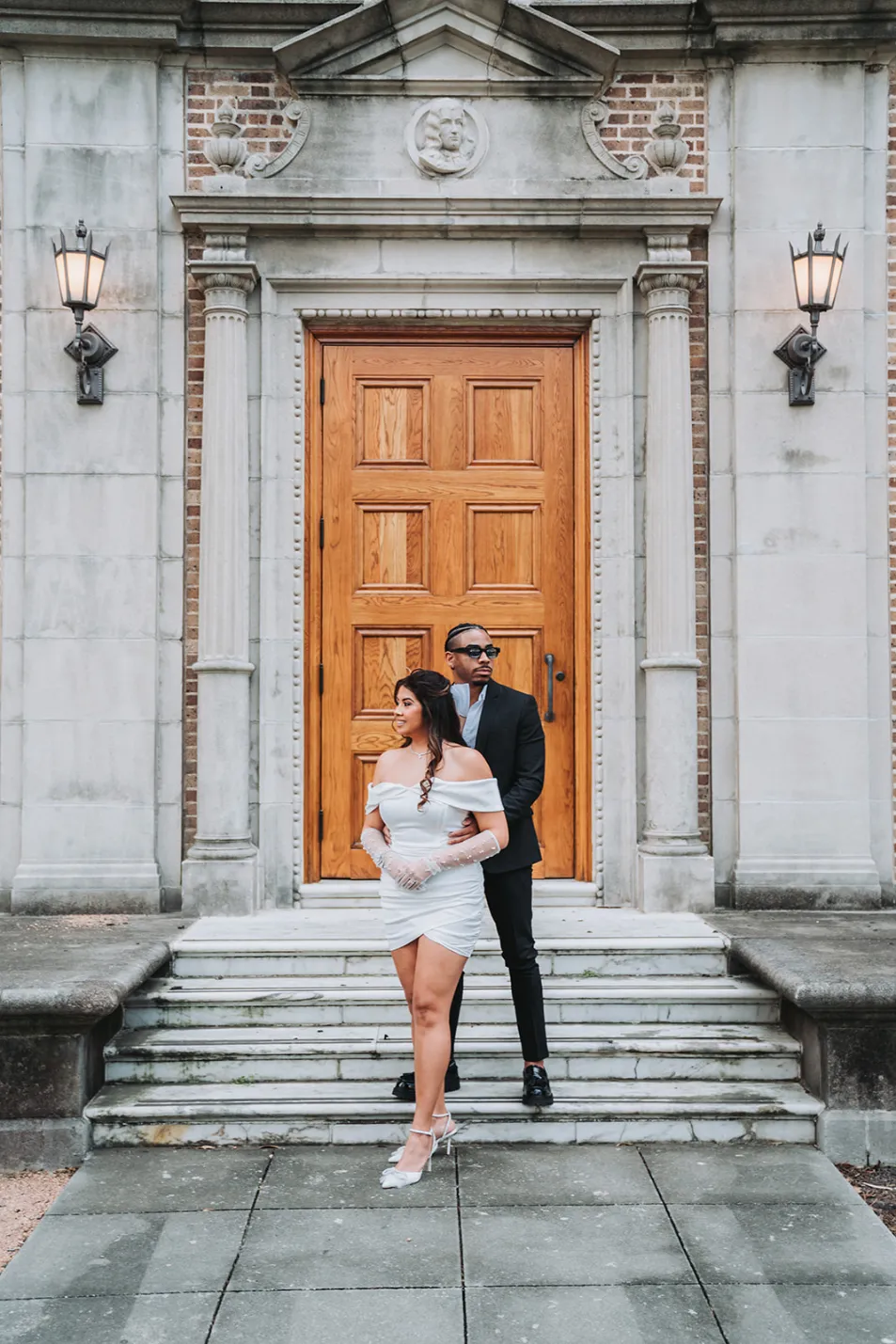 Choosing a Location(s) for Your Session
Where you take your photos can set the vibe for your entire shoot. So, whether you're going for 'romantic and dreamy' or 'fun and funky,' just remember: choose wisely, my friends. Your photo location is a very personal decision.
We're in the process of writing blogs for our favorite engagement locations, so stay tuned. For now, we shared our favorite engagement spots in Houston here.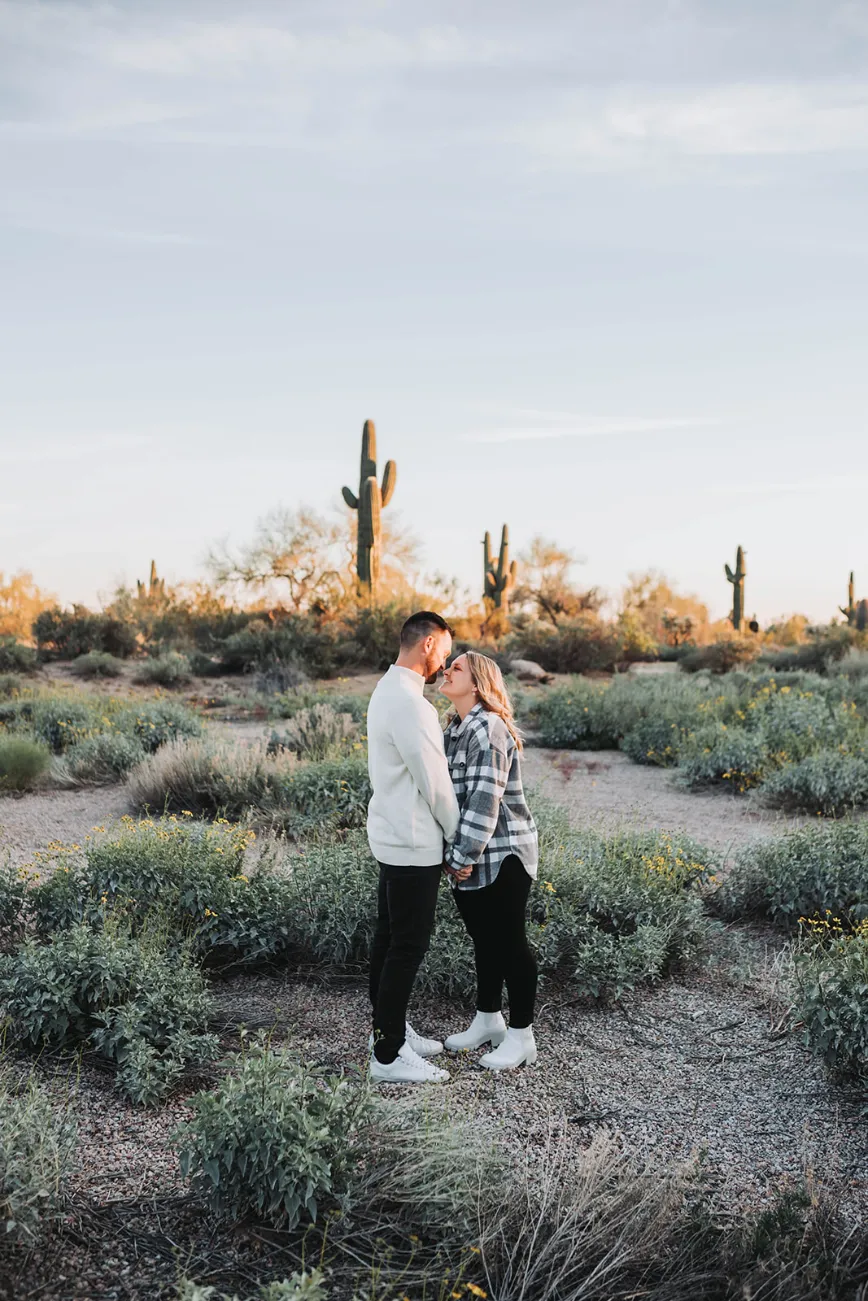 Choosing the Right Time of Day
Key Takeaways:
Golden Hour is the best hour 

Consider your personality: Morning person? Night owl? Shy? 

Time of year matters

Sunrise sessions are totally worth it

Avoid the midday sun 
First things first: the "Golden Hour." It's not just a fancy term, folks. The hour just after sunrise and just before sunset is truly magical. The sun's angle against the earth creates a warm, soft, and gentle glow that photographers love to capture. So, if you can swing it, try to schedule your session during this time. Trust me, your photos will thank you!
But what about your personality? Are you a morning person? Then go for a sunrise session, or prepare to consume copious amounts of coffee. Are you a night owl? Schedule an evening session and embrace the nightlife. And if you're camera-shy or an introvert, consider a sunrise session. The early hours of the day are quiet and intimate, perfect for capturing those tender moments.
The time of year is also an essential factor. Spring and fall offer both morning and evening options, but I suggest a sunrise session in the summer to beat the heat and keep hair and makeup in place. In the winter, opt for an evening session to give the sun time to warm the air, but beware of the chill!
Now, we know you may be thinking, "But early mornings are sooo early!" or "But the afternoon works better with our schedules!" We get it; we really do. But hear us out – have you ever seen the sunrise? It's like a freaking fairy tale come to life! Plus, you get the added bonus of feeling like you accomplished something before breakfast. Who doesn't love that feeling?
But if the thought of waking up before the birds make you want to hit snooze, don't worry. Your photographer will work with you to find the best time for your shoot. Just remember, the harsh midday sun isn't doing anyone any favors. So, let's avoid looking like a bunch of sweaty hot messes and aim for that dreamy, warm evening light. #HotGirlSummer isn't the same as #SweatyGirlSummer ;) Make Thee Stallion proud.
PRO TIP: Consider the traffic in getting to your location(s) so that you don't miss your golden hour due to an I-10 traffic jam. 
How to Feel Less Awkward 101
Key Takeaways:
Practice your smile and poses in front of the mirror before the shoot

Create a playlist of your favorite songs to play during the shoot

Be yourself and let your personality shine through in the photos

Relax and trust your photographer to make you look your best

Sip on your favorite drink if you're feeling nervous, but don't get too turnt

Think of the session as a date with your boo and have fun with each other

Just kiss to loosen up and show your love for each other

Act out your favorite romantic scene together

Make funny faces at each other for some silly shots

Have a dance-off to your favorite tunes

Try something new together to bring you closer and capture candid shots
Getting in front of the camera can be nerve-wracking, but trust us, you got this! Here are some tips on how to slay your engagement shoot and not feel awkward:
Start with some warm-up exercises: Practice your smile and poses in front of the mirror before the shoot. Make funny faces and stretch your facial muscles to get rid of any stiffness.

#VIBECHECK: Play some music: Create a playlist of your favorite songs and play it during the shoot. This will help you relax and get into a fun and playful mood.

Be yourself, baby! Your boo loves you for you, so don't try to be someone you're not. Let your personality shine through in the photos!

Don't worry about being perfect. Your photographer knows all the tricks to make you look your best. So let go of your worries, relax, and trust your photographer.

If you're feeling nervous, sip on your favorite drink before the shoot. Just don't get too turnt up, or you might end up with some "interesting" photos!

Remember, it's supposed to be fun! Think of the session as a date with your boo, and get silly with each other. Laugh, play, and enjoy each other's company. It'll make for some adorable photos, trust me.

When all else fails, just kiss! It's the perfect way to loosen up and show your love for each other.

Pretend you're in a movie and act out your favorite romantic scene together. You can go full-on Titanic or even do a dramatic spin in the rain.

Make funny faces at each other! Sometimes the best photos come from those silly moments when you're not even trying.

Have a dance-off! Blast your favorite tunes and bust a move. Bonus points for incorporating lifts and dips.

Try something new together, like a couples yoga pose or cooking a new recipe. The shared experience will bring you closer and make for some beautiful candid shots.
And lastly, don't overthink it! Just refer back to this article if you need a little reminder to relax and have fun. You got this, and your engagement photos are going to be absolutely gorgeous!
Fun Prop Ideas to Spice Up Your Session
Oh, it's time to bring on the props! I'm talking about those fun things that can make your engagement shoot extra epic! Check out some of these ideas:
Smoke bombs: Who doesn't want to add a pop of color and a ton of fun to their photos? These babies are a must-have for a nature-themed photo shoot.

Funny glasses: Don't take yourself too seriously! Get silly with some funky glasses that will make you and your fiancé crack up.

Fizz: Pop open a bottle of champagne or your favorite bubbly drink to add some extra sparkle to your photos. Plus, you'll have a drink to celebrate after the shoot!

Biodegradable confetti: Let's be eco-friendly and colorful at the same time! Biodegradable confetti is the perfect way to add some texture and fun to your photos without harming the environment.

Sparklers: Want to add some magic to your photos? Bring some sparklers and light them up for a whimsical touch. Just make sure to handle them safely!

Giant Balloons – Nothing says "we're in love" like holding a giant heart-shaped balloon.

Masks: No, not face masks! Lol. Want to have some fun and show off your personality? Bring some funky masks along, and get ready for some laughs!

Vintage Car: Renting a classic car for your shoot can add a touch of elegance and nostalgia to your photos.

Retro Phone – Bring an old-fashioned rotary phone and have fun pretending to call your loved one.

Picnic Blanket and Basket: Want a romantic picnic-themed shoot? Bring along a cute blanket and basket filled with your favorite snacks and drinks.

Musical Instruments: If you and your fiance love music, bring along your instruments and incorporate them into your shoot.

Books: Are you both bookworms? Bring along your favorite novels or even a stack of books and create a cozy, book-themed shoot.

Giant letter or number balloons: Giant letter or number balloons are a great way to personalize your engagement shoot. You can spell out your wedding date, initials, or even a fun message like "I said yes!"

Picnic basket: Bring a picnic basket filled with your favorite snacks and drinks. It's a great way to add a cozy and romantic touch to your shoot.

Hats: Hats are a great way to add some personality to your photos. Bring a variety of hats like fedoras, cowboy hats, or even silly hats to add some fun to your shoot.

Pet: If you have a furry friend, bring them along for the shoot. Pets make everything better and they will surely add some extra love to your photos.

Vintage car or bike: If you have a vintage car or bike, why not bring it to the shoot? It's a great way to add some character to your photos and make them unique.

Umbrellas: Umbrellas are not just for rainy days. Bring some colorful umbrellas and use them as props during the shoot. It's a fun way to add some color and playfulness to your photos.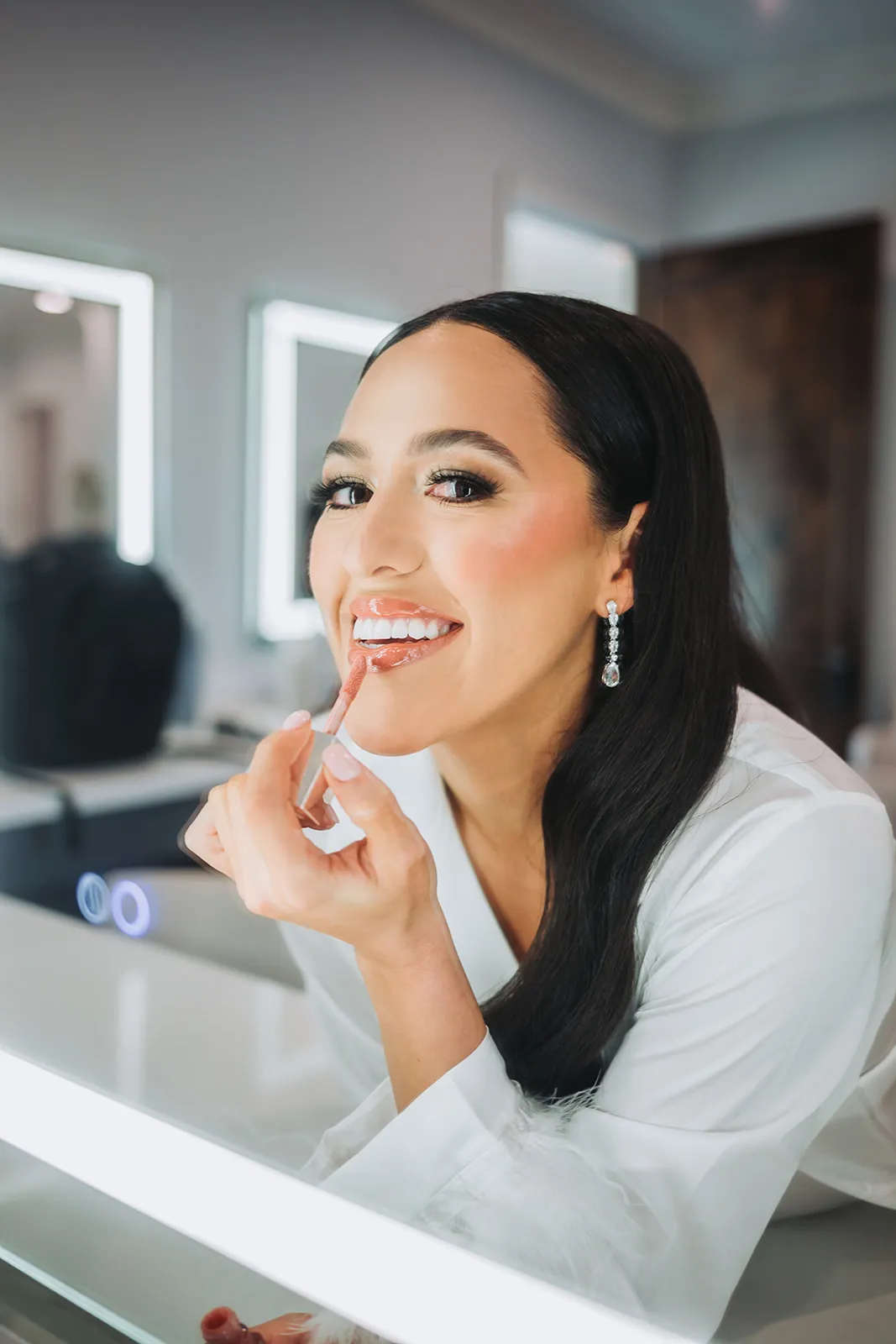 How to Pose and Get Your Most Flattering Angles
Practice different poses in front of a mirror before your engagement photo shoot. This will help you feel more comfortable and confident in front of the camera, and ensure you can strike a natural and flattering pose. If you have time, take photos of your poses so that you already know your best angles and styles ahead of time.
Key Takeaways:
Strike a pose, there's nothing to it!

Angle those shoulders like you mean it.

Push that chin!

Create some breathing room between that arm and waist; no one likes to feel smothered.

Bend it like Beckham! Keep your arms and legs loose.

Shift that weight to one leg and give it some attitude.
Your photographer will guide you, but preparing a little in advance is okay. You can get more unique photos and styles if your photographer isn't too busy directing you. And it'll also help your photos turn out more Instagram-worthy!
 Holding Hands:

Don't be shy, show the world how much you love each other by holding hands! Get up close and personal with a wide lens or zoom in to showcase your beautiful rings. Don't forget to clean your hands and nails for the perfect shot!

Sharing a Kiss:

Give your guests a sneak peek of your first kiss as a married couple by sharing a sweet and romantic kiss during your engagement shoot. Get creative with your poses and don't be afraid to show off that gorgeous ring!

Embracing: There's nothing like a warm and cozy embrace with your special someone. Experiment with different poses, like standing or sitting, facing each other or the same direction. And, of course, make sure your outfits complement each other.
Profile Shot (Forehead to forehead):

Get up close and personal with your partner in a profile shot. Touch foreheads or noses, and gaze lovingly into each other's eyes. Crack a joke or have a conversation to capture natural smiles and laughter. Close your eyes if it feels more natural.

With a Pet: Add some extra cuteness to your engagement shoot by including your furry best friend! Get down on the ground with your pet or stand on either side of them for a fun and playful photo. And don't forget to dress up your pet in a bowtie for the ultimate adorable factor.
Walking

: Take a stroll with your partner and capture the moment. Hold hands, walk side-by-side, or have one person lead the way. Get creative with your poses and always make sure to look at the camera for that perfect shot.

Reenactment of the Engagement:

If you have a photo of the proposal, use it to showcase your love on your save the dates! If not, reenact the proposal moment by having one partner get down on one knee and hold the other's hand. And don't forget to capture those surprised and ecstatic reactions!

Far Away Scenery Shot: Choose a location with a breathtaking backdrop, whether it's the beach, a nature trail, or a city skyline. Pose however you like, but make sure to let the scenery take center stage.
Playful Piggyback:

Let loose and have some fun by hopping on your partner's back for a piggyback ride! Walk around or spin for a more playful photo. But remember to hold on tight, we don't want any accidents!

Head-on-Shoulder:

Get cozy and cuddly with a classic head-on-shoulder pose. Lean your head on your partner's shoulder while sitting or standing, or switch it up by having your partner face backward while you reach your hand underneath their arm and lay it on their shoulder.

Showing off the Ring: You're engaged, so show off that stunning ring! Get creative with your poses and make sure to highlight that gorgeous bling in your photos.
Hug from Behind:

Get ready to embrace your partner in crime with this pose. Hug them from behind, mix it up with sitting or standing, and let your love shine! Don't forget to lock eyes, or you could always smile at the camera too.

Lifting Up in the Air:

Ready for some Hollywood-style romance? Lift your partner up in the air, wrap your arms around each other, and pop those legs for a fun and flirty shot. And if you're feeling daring, why not run and jump into your partner's arms for an even more natural look?

Sitting or Laying on the Ground:

Change things up by sitting down for your photo session. Whether you're sitting side by side or in each other's lap, you'll capture your love from head to toe with this pose.

Non-Face Photo:

Not feeling like showing your face? No problem! Turn your backs to the camera, hold hands, and rest your head on your partner's shoulder for a shot that reveals the intimate side of your love.

Twirling

: Ready to let your playful side show? Twirl around with your partner's hand in yours, and don't be afraid to move to the rhythm of your love.

Back to Back:

For a cool and sophisticated look, try standing back-to-back and switching up who's facing the camera. Or if you prefer, sit back-to-back on the ground and let your love do the talking.

The Classic Dip:

Let your love of dancing shine through with a dip pose. For a natural look, start with some dancing, then dip your partner for a romantic shot.

The Classic Portrait: Go for the classic portrait pose when in doubt

. Stand side by side, wrap your arms around each other, and don't forget to smile big for the camera.

Forehead Kiss:

A kiss on the forehead is always sweet and romantic. If you're shorter, let your partner give you a kiss on the forehead for a shot. That's pure love.

Sitting Apart: Feeling edgy and non-PDA? Sit apart from each other and let the background add some flair to your shot. Still, turn your heads to look at each other and share a smile to show that love is in the air.
Side by Side:

Celebrate the comfort and naturalness of your love with a side-by-side pose. Stand close, face the camera, and hold hands while wearing coordinating outfits that complement each other.

Facing Each Other:

Get ready to make your love official with a pose that mimics your wedding vows. Stand facing each other, hold hands, and smile at each other for a candid shot that captures the joy and love of your relationship.

Popping Champagne:

What better way to celebrate your engagement than with a bottle of champagne? Pop the cork together and share in the bubbly goodness while capturing the moment for posterity. Just be careful not to get it on your clothes!

Cheersing: Use that champagne you just popped for a fun and celebratory shot. Cling your glasses together, smile, and say "cheers" to your love!
Now You're Ready for Anything!
There you have it babes! That wraps up all of our best tips, tricks, and advice to make your engagement photography go as smoothly as possible. But you can always reach out to our team if you have a question or want advice. See you soon :)